So you've partnered with our print-on-demand services; you've customized your merch, creating backpacks, pajamas, and accessories. You've had some success reaching your target audience and fulfilling orders using MWW On Demand's design portal app, and your online store is well up and running. Business is moving forward… it's time to tune up your digital marketing presence! Your social media posts, email marketing, and ad campaigns all direct your audience to your website. As your primary online identity, it's your mainframe for making sales, and it's always a great time to run maintenance on your online store.
Double-check that your customers can find the information they need about your store, your unique products, and your shipping and return policies. Make sure your content is up to date and that all these links are working:
About Us page

Custom product descriptions
Look for this information on your price list or in the back of our Product Catalog.

Contact and social media accounts
For a chance to get your products featured on our page, tag us @mwwondemand or #mwwondemand

Online store policies (payment, shipping, returns & refunds)

FAQs
The more tailored and consistent and intentional consistent your content is, the better; today's browsers are super discerning today, and attuned to differences in online company retail quality!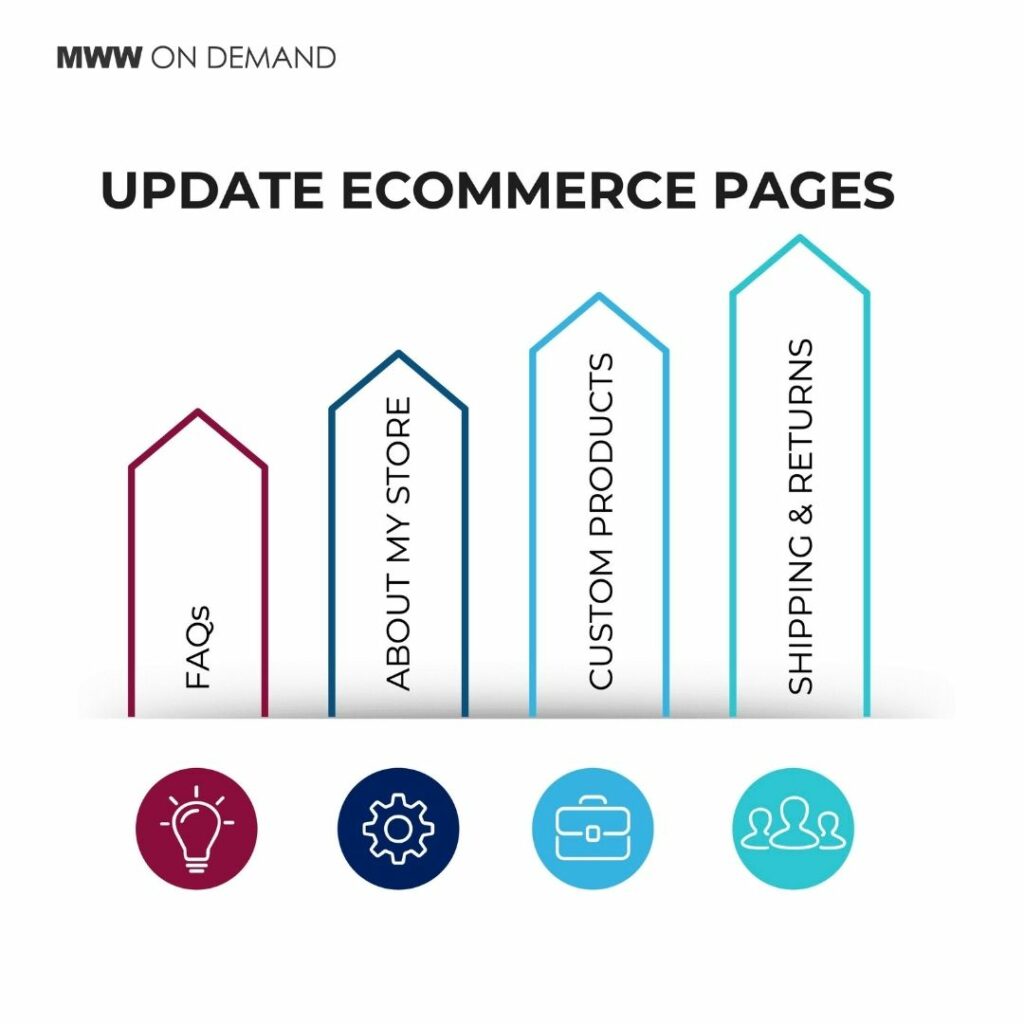 Pay extra attention to these focus areas:
Navigation
Logical web navigation helps customers find what they need and fast. Everything on your website should be accessible within 3 clicks from the homepage. Can customers find your customized home decor within three clicks from the homepage? How about apparel items? Try listing a couple of sample products that you sell, like printed area rugs or woven blankets, and following the click trail to access their product pages. To check how user-friendly your store is, ask your friends and family to browse your website as well.



Checkout
Your checkout is where store visitors convert to customers, which makes it one of the most important pages on your website. The more streamlined and enjoyable your checkout system is, the more items you'll ultimately sell from your online store. See how that works? Go through the checkout process. Is it fast? Is it easy? After your checkout process is optimized, you can consider cross-selling related items- consider a spa package that includes a shower curtain, bath mat, and a matching towel set, for example; or a holiday-themed gift box with customized stockings, a tree skirt, and matching hooded sherpa fleeces for the family.



Website speed
Delays in your website's load time result in lower conversion rates. Test your website's speed using Google's Page Speed Online tool. If you're up for more details, check out Google's Web Performance Best Practices (it even includes a report for mobile best practices- and mobile shopping is taking over e-commerce). Healthy webpages foster viewership- shoppers gravitate toward places that support a seamless browsing experience, and you want that to be your ecommerce store! 
You're making an excellent start
If you see opportunities for improving your online store, making those changes will increase your brand's value and foster potential sales. If sales from certain products from previous seasons have stalled or never quite took off, consider pulling those items and refreshing your lineup with new, unique designs. One of the advantages of MWW On Demand's no minimum order quantities is that you can create as many new designs as you wish without spending a penny on the products! These tips will help you spruce up your website, make more sales, plan ahead for the holiday season, and bring new business to your store. The real trick, though, is keeping those customers… 😉